OUR CO-FOUNDERS MICHAEL & MICHELLE
Since 2010, love.fish seafood restaurant has passionately offered the provenance and quality of Australian seafood in a relaxed, affordable setting. 
At the original seafood restaurant in Rozelle, love.fish forged a reputation as 'the fish bar with a green heart', serving fresh and sustainable seafood to hordes of adoring locals.
Now in its twelfth year, the love.fish Barangaroo restaurant takes Sydney seafood and our founders passion for authentic, accessible seafood dining, to the next level. 
love.fish, at harbour-side Barangaroo, still has the soul and values of a family owned restaurant. Now 175 seats, we offer a wider selection of Australia's best locally-sourced oysters, raw fish, whole fish, platters, and crustaceans. All in a world-class waterfront location.
Authentic. Approachable. Delicious.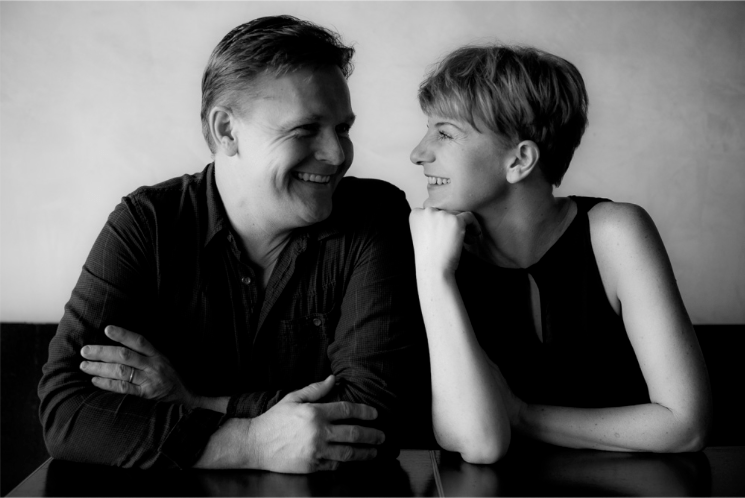 At love.fish we have always wanted to follow our passion with the lightest footprint possible. As a family with children and as seafood restaurant owners we have a greater social responsibility to address our environmental footprint. We love our new home at Barangaroo. With its 6 star Green Star commitment to sustainability within the precinct, we have found a partner to share and grow our commitment.
Whether it be our seafood, wine, spirits, coffee, packaging, or even our straws, we believe in sourcing and supporting local suppliers who share our business principles.
PLENTY MORE FISH IN THE SEA
The sustainable choice is to support Australian fisheries and farmers – we have the highest standards in the world! We select seafood that is not subject to over fishing and always look for produce that has been caught or farmed using methods that respect the environment.
At love.fish seafood restaurant we list the provenance of all of our seafood, selecting only the highest quality fish sourced locally from Australian & New Zealand waters. We believe food miles play an important role in reducing our ecological footprint too.
The food industry is unfortunately associated with large amounts of waste both in the packaging of food products and in the amount of food that is discarded. love.fish has been lightening its waste footprint since 2010. With the new resources of such a sustainable precinct our recycling and composting have reached new levels. The streaming of all waste and diversion from landfill is incredibly rewarding. Barangaroo even has it's own waste water recycling system!
PACKAGING WITH A CONSCIENCE
Seafood restaurants providing takeaway must be very mindful to choose environmentally responsible packaging. Most food containers can be recycled but often end up as landfill. Ensuring the majority of our packaging is biodegradable is integral to our waste management.
All take away boxes and cutlery are manufactured from 100% sustainable sources such as sugar cane and cornstarch. For our salad and sauce containers we have chosen PLA plant based plastic. This ensures all love.fish click & collect packaging is biodegradable or compostable within 12 weeks.
The love.fish goal is to help reduce landfill, protect natural resources and reduce greenhouse emissions.